EMPLOYERS
COMPLIMENTARY WORKSITE VISITS
One of the perks of partnering your company up with us is having access to our mobile clinic.  We will conveniently drive our state-of-the art mobile clinic to your worksite to provide medical care to you and your employees.  Our mobile clinic was custom-made with a comfortable patient bed, leather seats, and high quality medical equipment.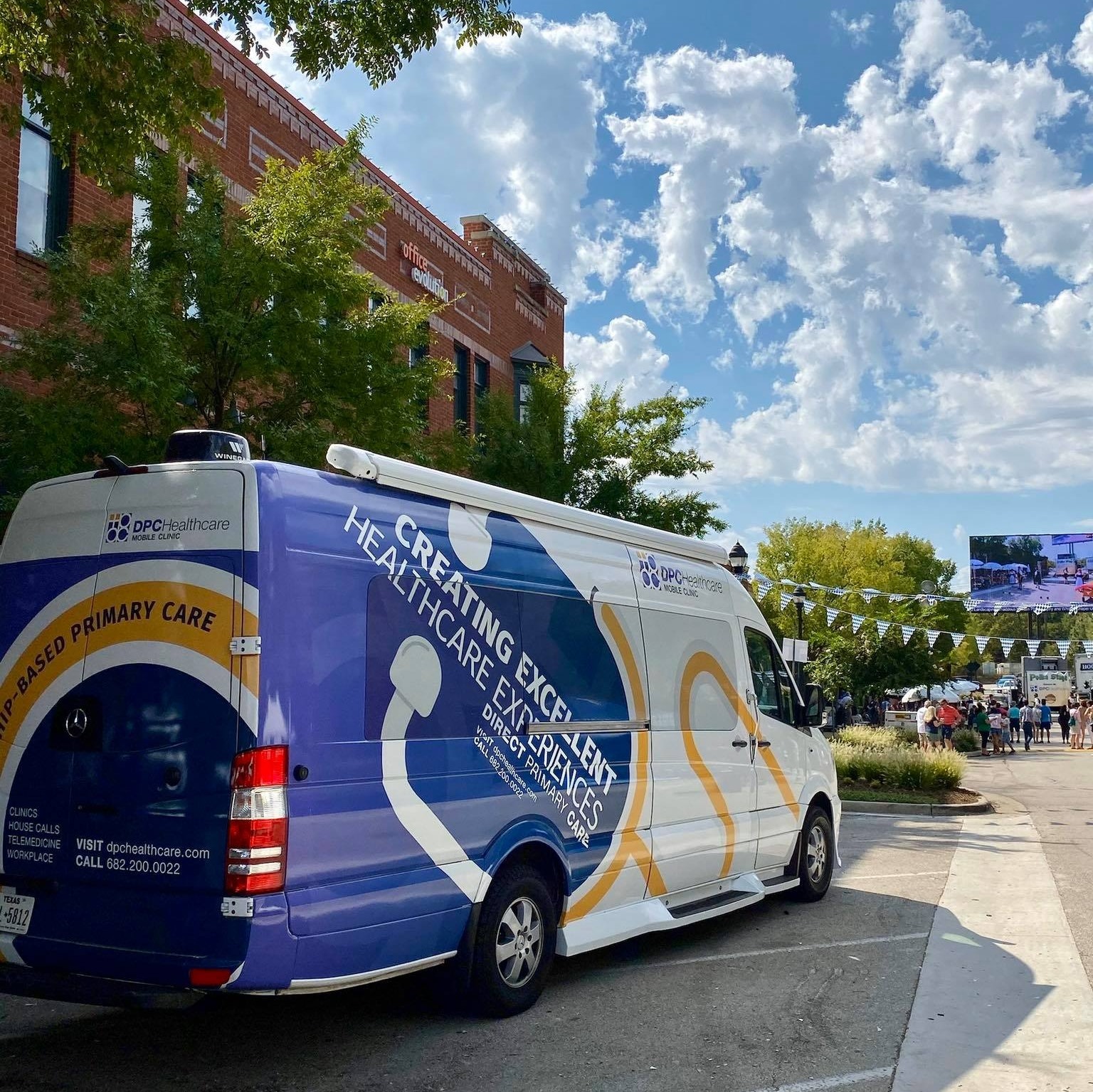 ALTERNATIVE TO HEALTH INSURANCE
CONVENIENT CARE FOR EMPLOYERS
DPC Health works with businesses of all sizes, providing employees and their families with personalized, comprehensive, membership-based primary care. No co-pays, no deductibles – just a monthly membership fee that allows unlimited access to an entire medical team 24 hours per day via text, phone call, or video consultation.
Conveniently, DPC Health has a state-of-the-art Mobile Clinic that provides the gift of time and convenience equipping our medical team with a fully functioning clinic to bring to our employer worksites.
24/7 Access to our Medical Team and Doctor
Instead of having to schedule time to visit our clinic, your employees can give us a call, text, or video visit for convenient care from our team
Chronic Disease Management
As your health coaches and advocates, we will help manage and prevent diabetes, migraines, weight loss, hypertension, cholesterol, and offer hormonal therapy
Unlimited Clinic Visits
In office, we can take care of all primary, urgent, and emergency care needs such as physicals, joint injections, casting, splinting, and more
Unlimited Lab Testing
Including but not limited to: complete blood count (CBC), comprehensive metabolic panel (CMP), lipid panel, thyroid stimulating hormone (TSH), HgbA1c
FREQUENTLY ASKED QUESTIONS
why should i choose dpc health for my employees?
DPC Health's priority are our patients.  We will treat your employees whenever they need us with unlimited clinic and telemedicine visits while working closely with you to communicate doctor's notes and excused absences.  Your employees will have the benefit of a close patient-doctor relationship with no copays or extra financial burden.
Do i still need to acquire insurance for my employees?
In general, DPC Health's membership is an alternative to health insurance.  Through the membership, your employees will have their primary, urgent, and emergent care needs taken care of.  With direct access to our medical team and doctor, your employees will reduce the number of ER visits by 64%.  
You can pair our membership with a high-deductible "catastrophic" insurance policy if you choose to.  We offer a variety of partnerships with healthsharing programs and insurance plans that we can help you accommodate.
what if your clinic is too far for my employees?
We provide unlimited secure telemedicine visits 24/7 for all of our patients.  Without having to travel the distance, your employees can call, text, or video us to receive medical care.  
With our convenient mobile clinic, we will work with you to schedule visits to your worksite a few times a year to bring medical care to you and your employees.
how much would it cost my business to partner with you?
The membership prices that you see listed for individuals remain the same for employees.
Tier 1 | $125/month
Tier 2 | $80/month
It is up to you and your business to determine if you would like to share any of the costs with your employees.  
CONTACT US
GET IN TOUCH WITH US
We would be honored to be your medical team and doctor.  If you have any questions about our membership or what services we can take care of for you, please do not hesitate to reach out to us!
Visit Us
1732 Keller Pkwy Ste 102 Keller, TX 76248