HOW DO YOU LOSE WEIGHT?
Dr. nguyen is dedicated
to helping you maintain a lifestyle that will change your set point. Weight loss is a journey and it is one that Dr. Nguyen would like to be a part of with you.
Patients who have allowed Dr. Nguyen to be a part of their weight loss journey have exceeded their expectations and have seen extraordinary results.
CHANGING YOUR BODY SET POINT
Scientifically, your body has what is called a set point. Despite being able to lose weight, it is likely that your body will return back to its set point if you are not committed to your goals.
WHAT IS OBESITY?
OBESITY IS A CHRONIC DISEASE
that is caused by multiple factors such as stress, medications, nutrition, physical activity, sleep, and more. Dr. Nguyen's goal is to identify each patient's personal causes and help develop an individualized plan to treat obesity.
causes of obesity
There are many factors that can cause obesity that we may not be aware of or think about. Dr. Nguyen will evaluate all of the following and determine ways to medically manage the causes. Here are some of the causes we may not be aware of:
INSULIN/LEPTIN RESISTANCE
free weight loss management
Our members will receive free weight loss and nutrition management included in their membership. Dr. Nguyen will complete a full assessment to determine your needs.
CONSULTATION
$99 non-member consult and labs
Your consultation with our board-certified doctor in weight loss will include:
Address chronic medical problems that are affecting weight gain
Body composition assessment (SECA) that determines body fat, muscle mass, water retention, etc.
Create an individualized plan
EKG screening to determine heart status and maintain heart health
Exercise regimen plan
Medical assessment plan at the discretion of provider for b12 injections, lipotropic MIC injections, and weight loss medications (bupropion, naltrexone, phentermine, and topiramate)
Nutrition assessment plan
One-time blood panel (CBC, CMP, HA1c, lipid, TSH)
8 rules of weight loss
SKINNY SHOTS
The "skinny shot" is a combination of B12 and lipotropic injections that aid in weight loss and improves overall health. The injection is effective because of the way it burns body fat by enhancing metabolic function while preserving muscle tissues. Both injections are recommend for maximum effectiveness.
b12 Injection benefits
Boost your metabolism and immune system while converting the food you eat into energy with B12 injections. You can expect an increase in your energy levels so that you are more active.
lipotropic injection benefits
With lipotropic injections, your body will convert sugar and carboyhydrates into energy while optimizing fatty acids process and mobility. It will also help manage your appetite.
MESOTHERAPY
fat burning injections
This non-invasive, non-surgical technique uses micro-injections of vitamins, enzymes, hormones, and plant extracts to rejuvenate and tighten skin, as well as remove excess fat.  It is a natural advanced and safe cosmetic treatment. 
Mesotherapy can be done to remove fat in areas like the stomach, thighs, buttocks, hips, legs, arms, and face. It is great for reducing cellulite. Perfect for anyone who needs to get rid of the bags under their eyes or tone up their abdomen.
Sessions are usually done at two-week intervals for four to six sessions depending on the area being treated. Once the treatment is completed, the fat cells in those areas are completely dissolved and will not return.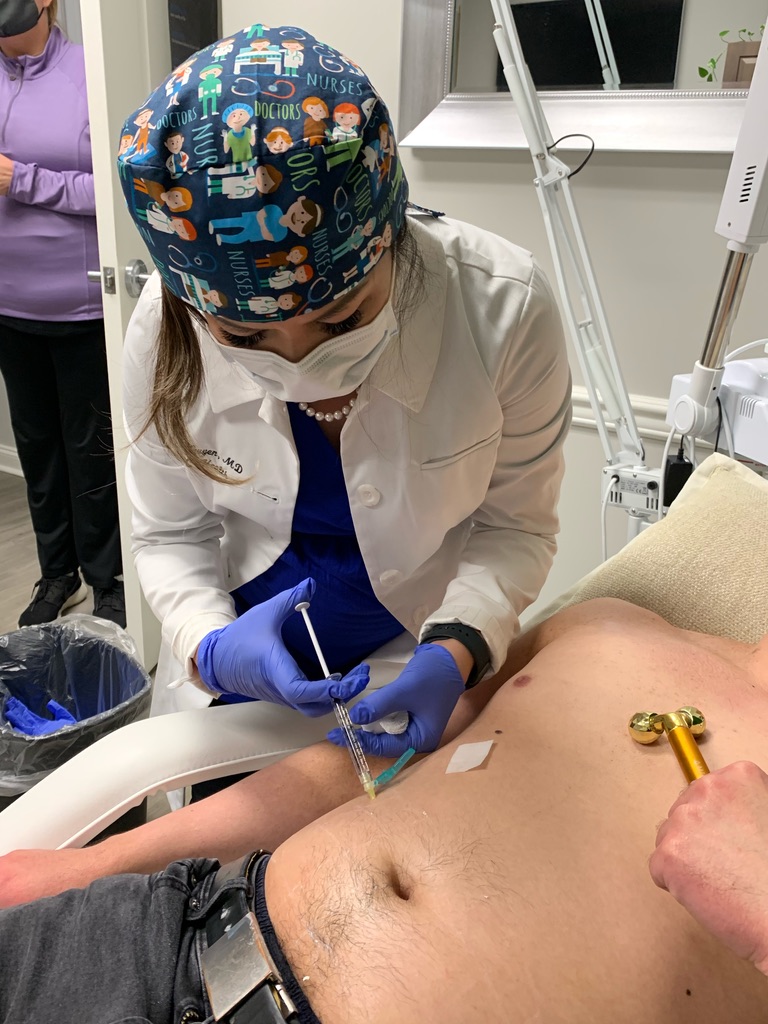 CONTACT US
GET IN TOUCH WITH US
We would be honored to be your medical team and doctor.  If you have any questions about our membership or what services we can take care of for you, please do not hesitate to reach out to us!
Visit Us
1732 Keller Pkwy Ste 102 Keller, TX 76248